Fastrack world and everyone wants everything immediate, which is in human's control (ofcourse God has his own pace...). The fast approach has been adopted in everything we do and it has started in construction business too. Earlier we used to construct overbridge which took years of years and huge man power, but now its time of prebuilt structures. Yes the overbridges, overhead rail tracks, commercial buildings have got into prebuild technology which is what we are seeing daily.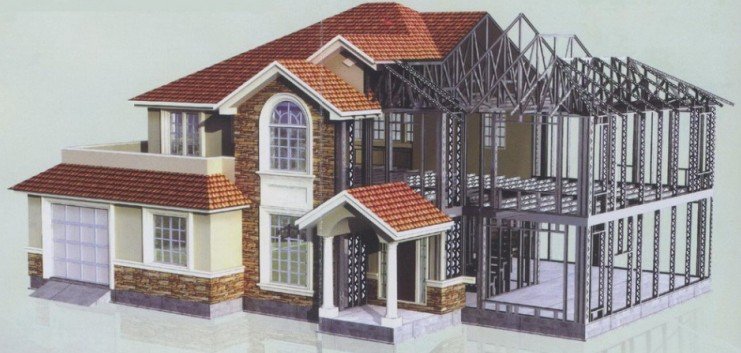 It has now interested many individuals to adopt in their dream house too, because they want their dream house as soon as possible.
PreFab
(PreFabricated) technology is what it is called. The whole process is get the layout, design them in the software, and it provides the strcutural elements to construct the house. Even though it sounds simple, the design part takes the complete time and once that is ready and soundproof, its only to fabricate the structures and fit them in the desired place. Structures are not just the walls or pillars, but the software is capable of giving the list from a screw till plumbing, wiring details in advance. So most of the time is spent in designing the complete house and finalizing it.
Many of you may wonder by this time, that this technology is for small house, which is not. It is followed in multistory commercial buildings so far, but slowly catching up interest in residencial house segment too. A structural house and finished house will look something like this. All are heavy duty casted steel under pressure which gives the entire support and life. These casted streel structures are made in the same way rail tracks are made, so now you should be understanding how much they can withstand. Already readymade kitchen, wardrobes, staircases have entered into residential segment and its now part of any house construction. Humans are the most creative creature and they have thought of taking this readymade concept to the complete house.
Lets discuss few things about their life and pricing. Experts who are into this business have guaranteed 40-50 years of strong life for a prefab structure, which is slightly less than a 80-90 year building using concrete, motar, bricks, but think of the designs our grand grand children will have after 80 or 90 years. So even the plan we dream may not be liked by our grand childrens and it is either altered or demolished and reconstructed in modern way. So 40-50 years sounds good compared to the ready made concept. Now about the pricing, it is roughly going to cost Rs.1300-1500 per sqft construction including labour, which is the same incase of traditional way of building. The greatest advantage of prefab building is they are easily refitted any number of times. Roads 20 years back are not in the same level, many houses built 20-30 years back are somewhere below the road atleast 5 feet below, but incase of prefab structures, they are easily disassembled, and the basement level can be increased above road level after 20 years and the structure can be assembled again, which is almost 20% cost of demolishing and reconstructing the house after 20 years.
This prefab technology is slowly picking up speed in Indian market. Many commercial institutions have come up with plans to build a township for their employees using prefab technology in the same way, and bulk orders are finished soon with in the specified time.